Portfolio Partner Profile
Clearinghouse CDFI
Clearinghouse CDFI (CCDFI) is a full-service, direct lender addressing unmet credit needs throughout the U.S. with a focus on CA, NV, AZ, NM, TX, & Indian Country. CCDFI provides direct loans for acquisition, refinancing, construction, renovation, operations expansion, and gap loans.
CCDFI's specializations include:
Nonprofits
Charter Schools
Affordable Multi-Family Apartments
Special Needs
Housing
Health Care facilities
Churches
Small Businesses
Office & Retail
Mobile Home Parks
Industrial / Mixed-use Projects
CCDFI is both a US Treasury-certified community development financial institution and a B Corp. B Corps are companies who meet rigorous standards of social and environmental performance, transparency, accountability, and use business as a force for good.
For 25 years, CCDFI has helped bridge the gap between conventional lending standards and the needs of low-income, distressed, and communities of color. Since inception in 1996, CCDFI has funded $2.1 billion in total loans for over 2,546 community projects. These projects have created or retained more than 38,866 jobs and benefit over 3.24 million individuals. CCDFI loans have also created/retained 24,329 student spaces and 10,100 units of affordable, student, and shelter housing since inception. In 2021, CCDFI lending included $45.7 million for 24 projects with environmental efforts and $38.6 million for 185 minority/women-owned or controlled businesses. C CDFI loans created 619 total housing units, with 62% designated as affordable. CCDFI also provided $472,000 to Native American-owned enterprises in 2021.
Featured Impact Story
Impact Story
Improved infrastructure, health, and safety for The Pueblo of Laguna, New Mexico reservation land
The Pueblo of Laguna (Laguna) is a federally recognized tribe located in New Mexico 50 miles west of Albuquerque. Residents live in six rural villages across 500,000 acres: Laguna, Mesita, Paguate, Seama, Paraje, and Encinal.
Clearinghouse CDFI provided $14 million of Federal NMTCs for Laguna to develop new wastewater related infrastructure, including sewage, filtration, and piping. Wells Fargo Bank was the project investor and Laguna Economic Advancement was the sponsor. This is the final phase of a $70 million wastewater development originally started in 2011.
The new infrastructure will greatly improve health and safety conditions throughout all six Laguna villages, which have been greatly impacted by the COVID-19 pandemic. This project will also create 40 construction jobs paying above living wage and 3 permanent, full-time jobs paying above living wage with full health and pension benefits.
Learn more about The Pueblo of Laguna.
Impact Story
Youth Development, Inc. (YDI) – Albuquerque, New Mexico
Youth Development, Inc. (YDI) is a nationally recognized nonprofit organization serving New Mexico since 1971. YDI provides youth and family services for low-income individuals to combat poverty and its effects on the community. Services include:
Alternative Education
Mental and Behavioral Health Services
Childcare and Mentoring
Homeless Assistance
Job Training and Placement
Family Development and Counseling
Clearinghouse CDFI provided two loans for YDI totaling $991,000. These loans provide longer terms, lower fixed rates, and support operation of YDI headquarters. This allows the nonprofit to better serve low-income individuals and families in and around Albuquerque.
"The partnership between YDI and CCDFI allowed YDI to restructure its debt on a long-term basis and to save two valuable assets for our organization. At a time when we struggled to find financing, CCDFI came to the rescue and helped stabilize our organization." —Diego Gallegos, CEO, Youth Development, Inc.
Learn more about YDI and this impact story.
Impact Story
North Austin Neighborhood Housing – Austin, Texas
Clearinghouse CDFI provided $1.6 million in financing for the acquisition and rehabilitation of an apartment complex in Austin, Texas. This complex-North Austin Neighborhood Housing-will be transformed into 33 units of permanent housing for homeless individuals.
The City of Austin and Ending Community Homelessness Coalition (ECHO) are providing support to 31-25 Advisors to make these housing units immediately available. Individuals and families will be sourced from ECHO's Continuum of Care waiting list-a program which generates a systematic, priority-based response to ending homelessness in the Austin area.
31-25 Advisors, the project sponsor, is a real estate company founded by two friends, Russell Artman and Stephen Levine, as a response to the critical shortage of affordable housing in Austin. Mr. Artman, with a background in real estate and Mr. Levine, with a background in finance, work together to address homelessness through novel approaches to affordable housing creation.
"Clearinghouse CDFI worked with us to create 33 units of housing for people experiencing homelessness. Thanks to their incredible team, we got people in housing for Christmas." —Russ Artman, Principal, 31-25 Advisors
Learn more about this impact story.
Impact Story
ACI Friendly Village – Long Beach, California
Clearinghouse CDFI provided $11.17 million in financing for ACI to purchase a mobile home park out of bankruptcy and continue park rehabilitation.
ACI Friendly Village (ACI) is a nonprofit public benefit corporation that preserves affordable housing through management of an 18-acre, 184-site mobile home park built over a landfill in the 1970s. ACI was created by Resident Owned Parks, a nonprofit organization that guides residents through the process of park acquisition.
Park acquisition allowed ACI to gain site control, stabilize operations, and ensure affordability for residents. Health and safety systems will also be implemented to address critical park issues.
"Clearinghouse CDFI clearly understood the nonprofit ownership and management of affordable housing communities. They heard our commitment to long-term improvements to this former landfill site and listened to our plans for how we would achieve our goals to improve the common areas to benefit low-income park residents." —Maurice Priest, President, Affordable Communities, Inc.
Learn more about this impact story.
Impact Story
Caritas Center - Santa Rosa, CA
Caritas is a new community center offering comprehensive homeless support services in a severely distressed area of Santa Rosa, California. Catholic Charities of the Diocese of Santa Rosa (CCDSR), who sponsored the project, is a principal source of services for the poor and homeless in Sonoma County.
Clearinghouse CDFI provided $10 million in NMTC allocation for development of the Caritas Center and a $4.2 million short-term bridge loan to CCDSR for project-related costs. CDE partners included Telecu with $18 million, Enterprise Community Partners with $7.5 million, and Chase New Markets Corp. with $4 million NMTCs. The federal NMTC investor was Chase Bank.
Caritas Center, at 3 stories and 46,500 sq. ft., includes a Federally Qualified Health Center to provide on-site medical and mental healthcare and a medical respite program. It includes job training, children's services, and expands capacity to serve an additional 2,000 patients annually. Development of Caritas Center created 30 new, full-time jobs & 130 full-time, construction jobs.
"CCDFI was an essential CDE on the Caritas Center, meeting a critical need for shelter and services for homeless individuals. We are grateful for our continued partnership. Thank you for supporting long-term solutions to the Sonoma County homelessness crisis." —Suzanne Brown, Principal, Equity Community Builders
Learn more about this impact story.
Impact Story
Pinoleville Pomo Nation – Ukiah, California
The Pinoleville Pomo Nation consists of 280 Native members currently residing in Ukiah, California. The Rancheria has been in existence for over 100 years. In a unique partnership, Clearinghouse CDFI purchased a 90% participation in a $2,240,000 loan to the Pinoleville Pomo Nation to obtain land which was part of the Tribe's original Rancheria established in 1911 but had since been acquired by a private party.
The loan was originated by Indian Land Capital Company, a Native Community Development Financial Institution, and was further supported by Indian Land Tenure Foundation, a national, community-based organization serving American Indian nations and people in the recovery and control of their rightful homelands. The purchase of the land allows the Pinoleville Pomo Nation to further tribal enterprises for economic development.
Learn more about The Pinoleville Pomo Nation.
Impact Story
San Carlos Apache Tribe – San Carlos, Arizona
The San Carlos Apache Reservation is located in a severely distressed area of San Carlos, Arizona. Established in 1871, the San Carlos Apache is a federally recognized tribe with over 16,000 members. Clearinghouse CDFI provided $5.5 million of NMTC allocation for the construction of three neighborhood facilities, including two community centers and a swimming pool complex. Each facility will be designed to meet the needs of the community, with an emphasis on improving the quality of life for the Tribe's youth. State Bank of Arizona was the tax credit purchaser and leverage lender for the project.
The new community centers will serve over 9,000 low-income Tribe members and provide access to vital programs such as the Boys and Girls Club, athletics, and food distribution. The facilities will also provide 15,500 hours of educational, recreational, healthcare, and safety services annually at little to no cost to the surrounding low-income community. Each center will create approximately five full-time jobs
Learn more about The San Carlos Apache Tribe.
Impact Story
HBCU Paul Quinn College – Dallas, Texas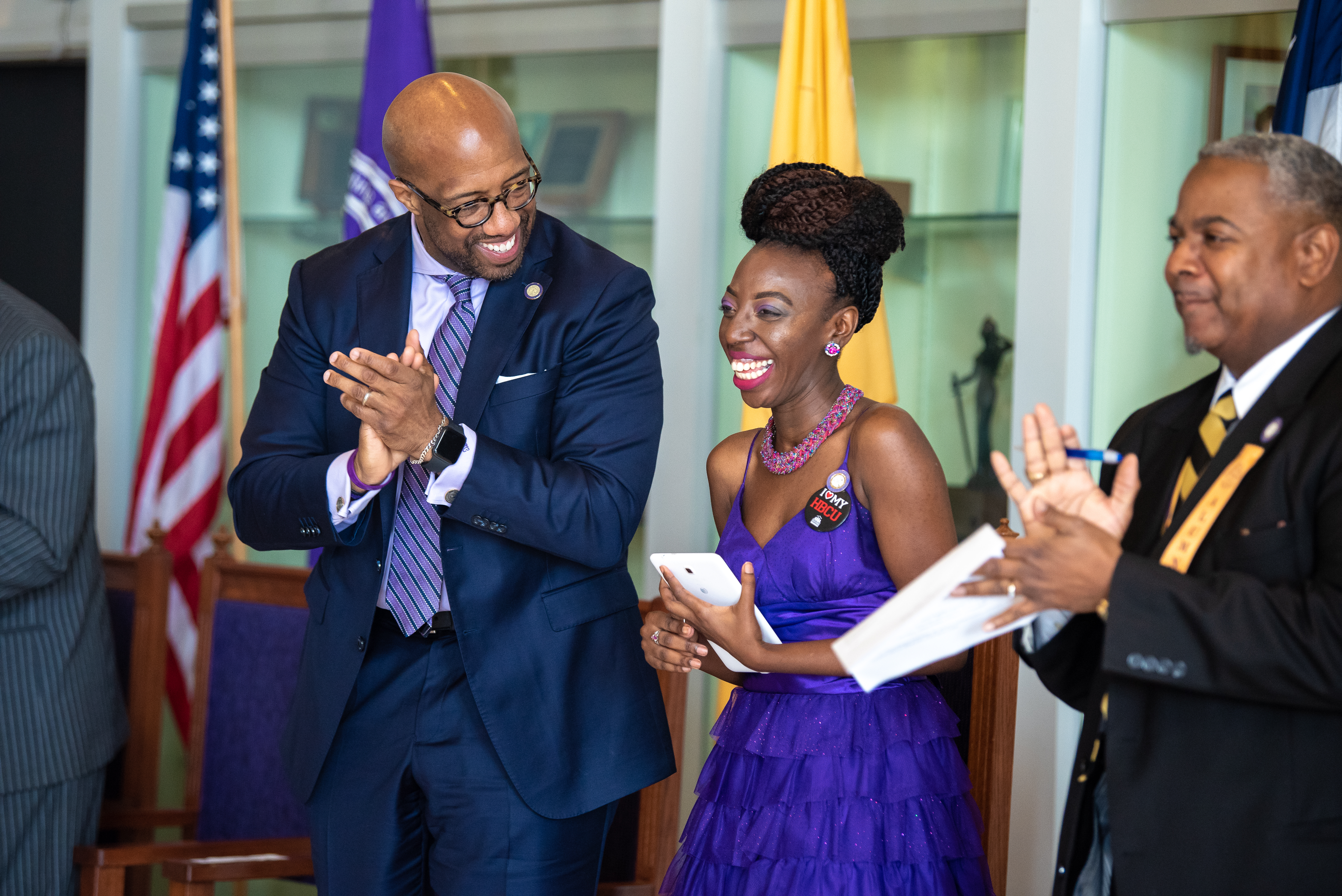 Paul Quinn College (PQC) is one of 102 historically black colleges and universities (HBCUs) in the United States. Located in Dallas, TX, PQC was originally founded in 1872 to educate former slaves and their children. Today, PQC proudly educates students of all races and socio-economic classes. As a working college, PQC offers paid jobs for every student, as well as reduced student tuition and fees allowing students to graduate with less than $10,000 in student loan debt.
Clearinghouse CDFI provided $5.84MM in construction and permanent financing for PQC to build its first new, on-campus facility in over 40 years. PQC's new campus facility will include a dormitory to house 132 students, a gymnasium, and additional classroom/office space. The project will create two permanent, full-time jobs, and 134 parttime jobs for students. PQC will also be able to increase enrollment by an additional 50 students.
This project was made possible through a partnership with Texas Mezzanine Fund and the use of New Markets Tax Credits.
Impact Story
Elko Community Health Center – Elko, Nevada
Elko Community Health Center is a state-of-the-art healthcare campus undergoing development by Community Health Development Partners (CHDP) in rural Elko, Nevada. Facilities will include an ambulatory surgery center offering a broad range of specialty and general care, as well as a medical office building for pre- and post-operation consultations, health and wellness programs, and medical imaging. Clearinghouse CDFI contributed $10 million of Federal NMTCs and $2.9 million of Nevada State NMTCs for development of the Elko Community Health Center. The Federal NMTC investor was U.S. Bank and the state NMTC investor was Stonehenge Capital. The new healthcare campus is expected to open in fall 2021 and will revitalize vacant retail space. CHDP is partnering with local physicians to expand the availability of quality, affordable healthcare in the area. Specialty medical services are expected to include: cardiology, gastroenterology, otolaryngology, ophthalmology, and orthopedics. This project will create 37 permanent, full-time jobs and 47 construction jobs.